While this year marks the 50th Anniversary of Special Olympics nationally, it also is the 30th Anniversary for the Special Olympics Maine Team Benefit Bass Tournament! And, needless to say the dedicated anglers supporting this event once again showed their never-ending love for Maine's Special Olympians.
Anglers competing in the tournament who stayed for two nights at Lakeside Lodge received a special 'Tournament Package'. According to Zack Stewart co-owner of Lakeside Lodging and Marina, "Our tournament package gives the fisherman an opportunity to fish an extra pre-fish day and we have a BBQ for them the night before the tournament. They get to spend their time fishing the day before the tournament, come back to our Marina tie their boat up in their slip and get off the boat to someone else doing the hard work on the grill!" (How popular was this promotion with the anglers? Lakeside was booked solid!)
Maine's Classic Bass Master Club ran the event like a well-tuned outboard, registering 88-teams within Lakeside Lodging and Marina's office, while other club members assisted the launching of boats at Lakeside Marina's ramp. Volunteers prepared breakfast egg and sausage sandwiches along with freshly brewed coffee as team members gathered around the weigh-in site prelude to the 7:30 a.m. meeting.
Dave Barnes Sr. weigh-master for the Special Olympics Maine Benefit Team Tournament informed me, "I remember when Andy Wess contacted me asking to help run a benefit tournament to raise monetary support for the Maine Special Olympians. Today marks my 30th year of involvement and like every angler here today I am extremely happy and proud to do so." Barnes then led the anglers in a morning prayer.
With the morning briefing completed, teams drew their boat numbers and then idled out of Welch Bay in numerical order. Well aware of the 4:00 p.m. check-in time bass boats jumped on plane heading in every direction. Throughout the day the roar of high power bass boat engines signaled teams moving from one area to another as each team battled to bring in the heaviest limit. Upon their return the weigh-in site was ready to weigh teams 8-bass limits. Once again volunteers manned the grills preparing hot dogs and hamburgers for the hungry anglers.
Teams were called to the scales in groups of ten and there was no doubt most every team enjoyed an outstanding day of catching bass on Lake Cobbossee. It quickly became apparent when teams weighed their largest smallmouth bass and/or largemouth bass the Lunker bass in each category would require weights exceeding five-pounds for Smallmouth Lunker and six-pounds for Largemouth Lunker! As for total weight of an 8-Bass limit rumors echoed it would take at least a 30 lb. bag to win?
The leaders board seemed to keep changing every time a new group was called to the scales, and anglers kept weighing in five-pound bass as their individual team big bass. It was quite apparent Lake Cobbossee had returned to its legendary big-bass reputation and only the scales would reveal results when the last team weighed-in. With that Classic Bass Master President Dave Reiss announce the final call for anglers to bring their bass to the scales.
Once the scales were officially closed, club members of Classic Bass Anglers tallied up the Top-19 teams with the heaviest weights, as well as the Smallmouth and Largemouth Lunker. During this time Door prizes, 50/50 Raffles, 3-Old Town Kayaks, WileyX Glasses, Garmin Sonar and much more sponsor donated prize drawing were held. Special Olympians Amy and Carrie were on hand to assist in handing out all of the prizes.
Receiving special recognition for competing in the Special Olympic Team Benefit tournament were Special Olympians Kris from Ohio and Liam from Massachusetts. Both anglers proved their angling talent as they weighed-in bass with their partners. Liam competed with his Dad and weighed in a nice largemouth bass he caught. However, Liam and his Dad's total weight was much less than Kris and his partner Bobby Williams! Kris caught and landed his team's biggest bass catapulting Kris and Williams into 16th place overall with an 8-bass limit weighing 22.79 lbs. Both Special Olympians received awards for their outstanding participation and bass angling abilities.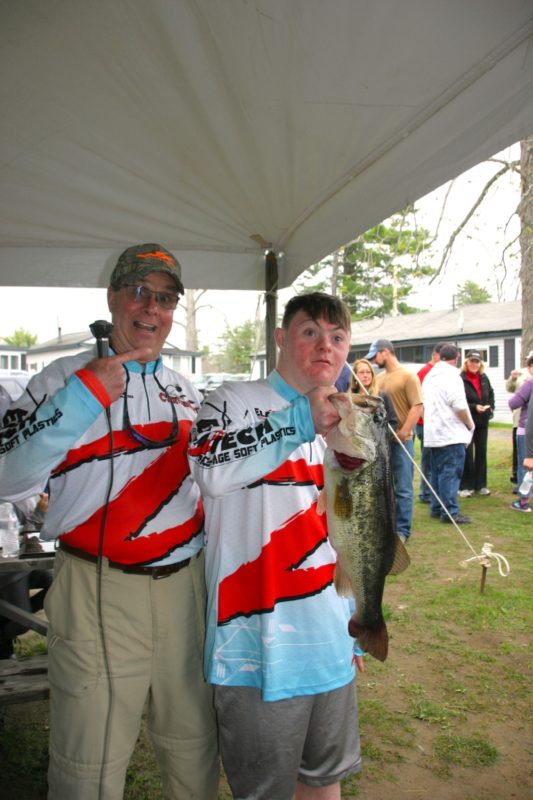 A huge crowd of anglers and fans gathered around the weigh-in site waiting patiently to hear what the total Winning weight was for an 8-Bass Limit. Starting in 19th Place Teams and their weights were announced one by one working up to the 1st Place Championship Winning weight. The crowd responded with applauds and whistles when Carrier & Towns approached the scales when it was announced their 8-Bass winning limit weighted 34.71 lbs. The Champions had outdistanced 2nd Place finishers Witherall & Lindscott to claim the 2018 Championship Title by 5.57 lbs. Claiming the Largemouth Lunker award was Hatch & Kervin with a 7.07 lb. hog, Lohmiller and Fareuf's 5.29 lb. Smallmouth won the Smallmouth Bass Lunker.
Busy in the background while the Angling Awards were being presented, Andy and Sheree Wess along with several Special Olympic volunteers diligently added up all of the donations and monetary funds raised to support the 2018 Maine Special Olympians yearly activities. Calling Phillip Geelhoed Maine's Special Olympics President & CEO to the podium Andy Wess informed Mr. Geelhoed over $23,000.00 was raised which included an unbelievable $10,650.00 donation from Bass Boat Central. To this announcement tears of joy and hugs could be seen everywhere. As once again the generous hearts and donations would allow over four thousand of Maine's Special Olympians the opportunity to participate in a wide variety of Special Olympic Games.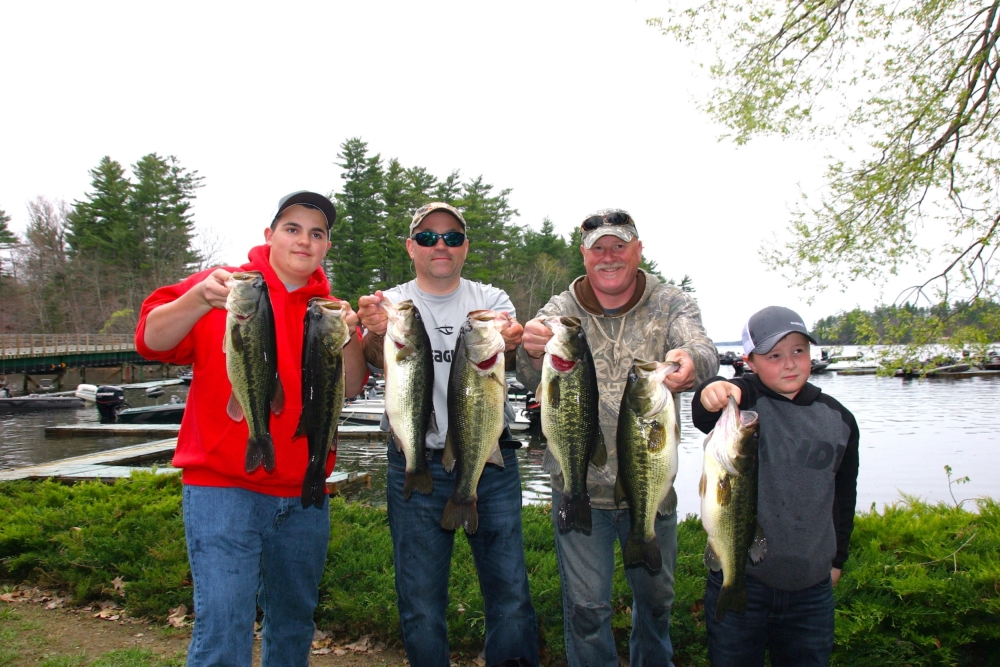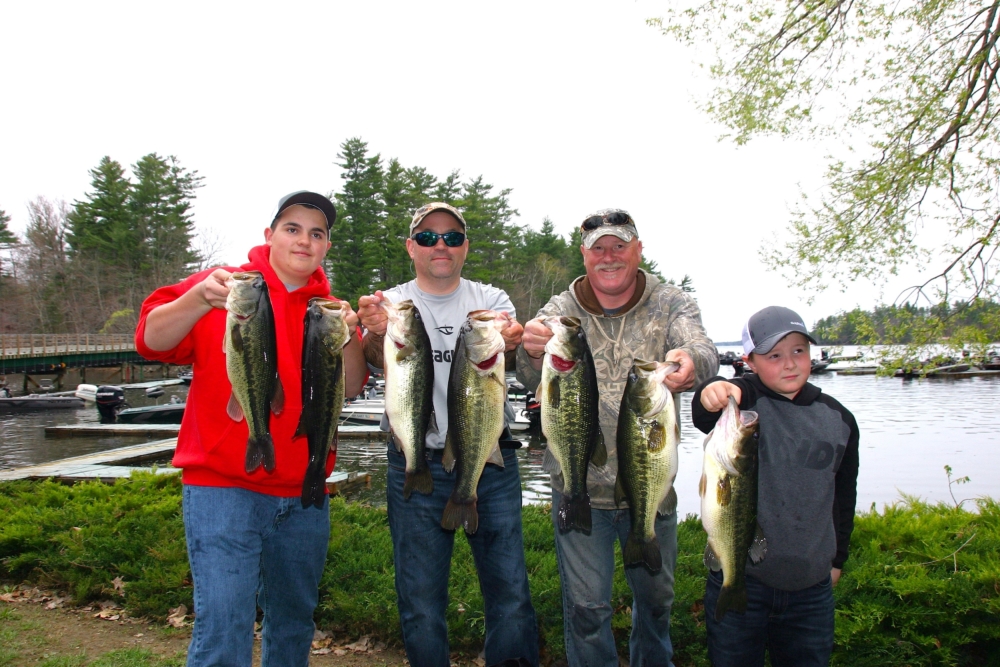 God Bless,
Remember, "Just Have Fun"
Billy 'Hawkeye' Decoteau
The Bass Bureau